Seal Wire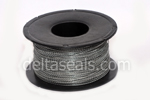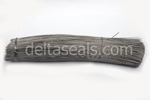 We are leading manufacturer of seal wire in different material and in different sizes. Seal wire available in spool, reel or in cut length.
Technical Details
Material
: Galvanized iron wire, Stainless steel wire grade 304 and 316 ,Copper, Brass and plastic coated wire.
Size
: 20×24, 24×24, 24×26,24×28,26×30 SWG or any customized size.
Package

In spool : 500Gms/400Gms/250Gms
In Reel : 400 gms/300gms/200gms
In cut length : Customize

Application

Electricity meters
Water Meters
Tankers
Carboys
Truck & rail cargos
Taxi Meters
Franking Machines
Lockers
Bags
Packages
Closet
For many students, it is difficult to create a term paper, and they opt for a custom term paper writing service. Our staff includes skilled writers that are skilled in handling every part of the term paper procedure. We ensure 100% authentic documents that are fully covered by our professional writers. For catching grammar errors we've teamed up to editors. We also have a team of support that is well-trained to help clients with questions regarding the paper you submitted.