Tamper Proof Paper Seal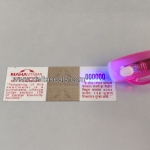 TECHNICAL SPECIFICATION OF SECURITY PAPER SEALS:
The seal is Tamper evident so that if any attempt is made to tamper the seal it should leave clear visible mark of such attempt.
The Seal have self adhesive covert feature sealing on surfaces viz. metal/ plastic/ Bakelite/ SMC/Polycarbonate and such other materials like Metering installation, Meter Box etc.
. On application of heat, the seals should shrink and the printed matter should collapse.
The seal should be water proof and can withstand extreme weather condition.
The seal is capable of preventing degradation of printed maters and all other features due to UV rays, water, climatic and weather etc.
CONSTRUCTION :
1. Film– The hologram sticker seal made up of self- destructible white film where the printed matter like serial number, bar codes etc can be printed. The film have sufficient mechanical strength. After utilization/ application if any attempt is made to remove the seal it should torn into pieces and/or effect of such acts shall be visible clearly from the status of the seal.
2. Hologram– The seal have OVD (Optically Variable Devices) hologram running across length of the seal in a band of as per require length. The hologram strip shall not be laminated but impregnated into the seal surface or may be customised as per your requirement.
3. Adhesive– Adhesive have sufficient strength to avoid peeling off without tampering even under extreme environmental conditions ranging from 0 Deg.C to 55 Deg.C. Adhesive not deteriorate due to ageing either. The adhesive have resistance to many solvents like mild acid, alkalis & petrol and other chemical solvents. The adhesive bind extremely well with metal/ plastic/ Bakelite / polycarbonate/ ebonite/ABS painted metals and other materials.
4. UV Security Code : Seal have hidden security code, which visible in UV Rays only.
5. Continuity- Seal should have facility of testing of its continuity which should be assessed by electrical conductivity. If it is cut by sharp blade its continuity should be broken which could be checked by electrical continuity tester. Continuity line should not decay/expose/oxidize and should cover the complete life span of the seal.
Tamper Proof Paper Seal Model-DSE-H7525
Application
Electricity meters
Water Meters
Gas Meters
Utility Meters
Envelopes
Drums
Luggages
Cartoons
Bottles
Cupboard doors
Evidence Bags
Truck cargos
Rail Cargos
Lockers
and so many application